---
Pro Airsoft Supplies, "About Us
We are a new Airsoft shop based in London
---
---
Our company:
At Pro Airsoft Supplies we strive to give our customers the best possible service we can. In 2014 we won Airsoft Internationals Customer Service of the Year award. After years of experience working in this industry we've acquired the ability to source nearly anything so if you're after something and can't see it online then give us a call or an email and we'll let you know.
---
Our team:
Our staff make Pro Airsoft Supplies the great place it is. Between us we have decades of experience in the gear we sell.
---
As avid airsofters we like to follow a certain philosophy:
"If it's not something we're prepared to use ourselves, we don't sell it". This means that you can have peace of mind when shopping as the stuff you order will be up to standard.
Pro Airsoft Supplies, 252 Archway Road Highgate London N6 5AX
Call us now: 0208 347 6476 / 02082926548
---
Proair Soft Supplies United Kingdom

We are a brand new Airsoft shop based in London. Our company is led by a team of Airsoft enthusiasts who have 15 years of experience of the Airsoft industry. These combined years include experience as both a customer and as a retailer. We bring key skills from other business environments, to provide something new to the Airsoft retail market.
One of our key philosophies for our business is, that the above all else, the customer comes first. With this in mind, we aim to provide the best customer service levels in the Airsoft market.
---
We feel we have chosen well, in terms of the manufacturers and suppliers that we are working with. Together with our manufacturing and wholesale partners, we believe that we can offer something new in terms of product innovation and guarantee backed reliability. We also believe we have something new to offer in terms of service levels and value. Our goal is excellence. If we achieve this please tell others, if not, please tell us.
---
Professional Training Experience:

This picture was sent to us by a satisfied customer, William, who had the following to say about Pro Airsoft Supplies and G&G:
"My recently acquired G&G MP5A4 proved itself very capable yesterday in the FIBUA environment that is RAF Upwood, and given the blowback is air-powered it sounded and felt awesome (several players also commented on that, and the fact it looked badass to see the 'bolt' cycling as well).
The full stock was also excellent, partly just because it allows the operator to achieve a perfect cheek weld with ease (especially compared to variants with retractable stocks), but also because a large-type NiMh fits easily and outputs great results, although I will try a LiPo at some point and see how that works out.
---
---
"Wow. Went there with a group of mates – we have not really played airsoft before and had just come from WA after being shown a few guns. Nothing negative to say about WA, it was 'OK'. Stepping into Pro Airsoft Supplies, the experience was like night and day! We spoke to the guy on the front desk and told him we were new and just wanted a look around – he told us to go into the back room and talk to Griff. We spent an hour there with Griff he spent a lot of time to explain to us the differences between all the guns and encouraged us to handle them and get a feel for each one we were interested in. We even got test fire several – every-time we looked like we had an interest in one, Griff would offer to set it up for test firing.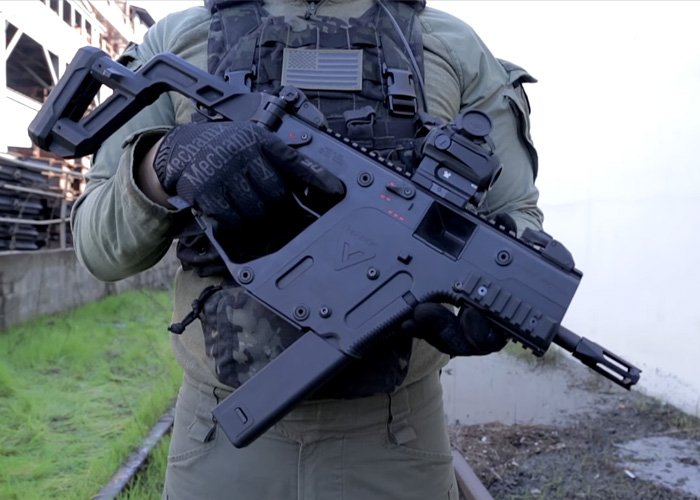 ---
 FAQ's: What Is Airsoft?
Airsoft is a combat sport similar to paintball, but with marked advantages. Invented in Japan in the late 1970's, it is now played throughout the world although the majority of airsoft replicas are made in Japan, China, and Taiwan, with some manufactured in the United States. Airsoft guns are designed to imitate their real counterparts faithfully and are 1:1 realistic replicas.
Airsoft replicas fire 6mm plastic bb's and are powered either by gas, spring, or electric motor. As no paint is involved, it is less messy than paintball – because it doesn't leave a mark, airsoft is based on an honour system, where each player calls their own hits. In the UK, the legal limit for an automatic airsoft weapon is 1 joule, which is roughly 328 feet per second with a 0.2 bb, and therefore is considerably less painful than paintball. It is also cheaper to run – a bottle of 3000 bb's will typically cost around £7.00, whereas the same number of paintballs will cost around 10x that, at around £75-80. Cost to start up can be as low as £200 for an airsoft gun and ammunition. There is also an enormous range of airsoft accessories and tactical gear, such as optics, flashlights, lasers, boots, vests, helmets and so on.
UKARA, shipping and billing addresses
If buying a RIF (Realistic Imitation Firearm – see ) then the UKARA address, the shipping address and the billing address must ALL match. If they do not, your order will not be processed – however, you will be notified and we will always try to sort the problem out for you.
---
Two-Toning:
Two-Toning
If I enter "Please Spray" what will my gun look like?
Your gun will be carefully disassembled, sprayed, and reassembled. We currently only offer green as this tends to leave the best finish, as you can see on the Sig P226 pictured below.
Please remember – removing the paint or trying to respray over the bright colours is not only messy and ineffectual but also illegal – for more info, click "VCRA INFO." on the navigation to your left.
Customers should be advised that due to high demand and the fact that Pro Airsoft Supplies is dedicated to ensuring that all Paint Jobs are of the highest standard, it may take up to ten days for a painted gun to be shipped from the date of the order, although we will do our best to minimize this time.
---
International Shipping:
Due to a recent influx in order requests from abroad we have added an outside UK shipping option. It is calculated at a flat rate of £20. This is to allow for the safest, quickest and easiest method of shipping an item. Please be aware choosing to ship abroad can incur extra shipping charges. At this point we will contact you to make you sure wish to proceed with the order.
---
Warranty/Returns:
Returns Policy Pro Airsoft Supplies Warranty and Returns policy
Returns: Your rights to return goods are protected under the EU Distance Selling Directive.
You are entitled to cancel your order and return the goods within 7 working days for a full refund, including the cost of delivery. Do this by contacting us by email or telephone and quoting the order number supplied to you. Your refund will be paid within 30 days. You are responsible for the cost and risk of loss or damage when returning the goods, so you should take out enough postal insurance to cover their value. This cancellation policy does not affect your rights when we are at fault – for example, if goods are faulty or described improperly.
We cannot accept returns on any custom work, including painted guns, unless the gun itself is faulty, in which case warranty procedure is applied.
Warranty: We offer a warranty on any gun bought, and how long it lasts depends on the type of gun:
We offer a warranty on all our RIF/IF's, they vary depending on the brand.
– All Gas Guns – 3 months
– All AEG's – 12 months
Warranty will be void if the gun is disassembled by anyone other than a Pro Airsoft Supplies employee. Warranty will also not cover a gun that has been accidentally damaged, upgraded by anyone other than Pro Airsoft Supplies, been used with low grade BBs, been used with batteries which have been improperly cared for, abused, or mistreated, or has been customized by anyone other than Pro Airsoft Supplies. This also covers guns used inappropriately, for example with 11.1 Lipo batteries or with gas that is unsuitable for the gun. Any gas we sell is fine for all the guns we sell unless otherwise specified – for example, revolvers, PX4 and the XDM should ONLY be used with 144a gas unless upgraded.
Warranty will be void on any gas guns that are not run on Abbey 144a, Abbey Predator or Ultrair gas.
Any goods returned should be in saleable condition.
---
How to become a registered Skirmisher:
To become a registered airsoft skirmisher, you can do the following:
1. Find a skirmish site near you using the UKARA website
2. Attend 3 games in a time span of no less than two months
3. Download the player registration form here
4. Send your completed forms to us at:-
252 Archway Road,
Highgate
London
N6 5AX
Almost all sites will have a rental service, which will supply you with everything you need to play – this is a great way to try airsoft, as well as to try different equipment to help inform you if you decide to buy your own when you register.
Pro Airsoft Supplies does offer a painting service – any airsoft gun which is classified as a "realistic imitation firearm" (and therefore illegal to sell to anyone who is not registered) can be modified to make it an "Imitation firearm", making it legal to sell to anyone over 18. This service costs just £9.99.
---
New fire arms legislation came into force on the 2 nd of May 2017.
Whilst we owe a debt of gratitude to those who lobbied on behalf of
the industry/sport there are some potentially scary implications with
the new legal velocity limits.
There are now legal velocity limits enshrined in law.
The consequences of owning, buying and most worryingly of all,
importing R.I.F.'s (realistic imitation firearms, more commonly
described as airsoft or bb guns) that exceed these limits are very
serious indeed and could possibly end in a criminal record, or even
time behind bars.
---

The legal limits are:
R.I.F.'s capable of firing in a fully automatic mode are limited to 1.3
Joules. This is about 378 feet per second with a 0.2g bb.
For R.I.F.'s that can only fire one round at a time i.e. semi auto or
bolt action, the limit is 2.5 Joules, which is about 518 feet per second
with a 0.2g bb.
Thankfully, most site limits and thus most R.I.F.'s in The U.K. are
below this, which is great and will thus have little impact on how we
play our sport.
---

HOWEVER THE DANGER IS IN PURCHASING A R.I.F.
Consider the following:
1. Personally buying and importing a R.I.F. from overseas
Many R.I.F.'s imported from companies abroad are over the new
legal limit when they arrive in The U.K. and need downgrading.
However, because of the change in the law, the act of importing a
R.I.F. with a velocity over the legal limit is a crime in itself. Ignorance
of the law, or of the likely velocity of the imported R.I.F. is not a valid
defence against prosecution. You can of course request the overseas
retailer to ensure that the R.I.F. is below The U.K. legal limits and
some may agree to do this. However, you really need to trust that
they will 100% do this for you. There is no penalty for the overseas
retailer if they 'forget' to do it. Just asking them to put an M100
spring inside the box is no defence either.
---
2. Personally buying a second hand R.I.F. privately e.g. via a U.K.
forum etc.
Again, there is the same issue. You have to be 100% sure that the
R.I.F. that you are buying is under the legal limit. If buying from
someone you don't know, you have to trust their word 100%, that
the R.I.F. has had the velocity checked on a good quality, reliable
chronograph (many cheaper models are not accurate at all.) and that
it is under the legal velocity limit. If it transpires that it is over the
legal limit, you have broken the firearms legislation, despite any
assurances you were given by the seller. Also it's worth noting that
some, who knowingly have a R.I.F. that is over the legal limit and
don't have the know how required to downgrade it, or the money to
have it professionally downgraded, may be very tempted to try and
sell it on to someone else quickly.
---
3. Personally buying a R.I.F. from a U.K. retailer.
This is far safer than the two previous forms of purchase stated
above, in our opinion. However, this still needs thought and
care. Does the retailer chronograph every R.I.F. that leaves the
store? There are sometimes velocity differences between
R.I.F.'s of the same model and sometimes even the same batch.
Also, is the chronograph being used accurate and reliable?
Many Chronographs, including those used by some shops and
sites are woefully unreliable. There is obviously a strong
incentive for the retailer to get it right, as they'd be breaking the
law by having an illegal R.I.F. in stock, in store. However, the
retailer in question may have a 'drop shipping' arrangement
with a supplier in The U.K., or even overseas. I.e. the retailer
that you are buying from never actually has the product in
stock. After an online purchase the retailer gets his/her supplier
to ship the product directly to you. This means that you need to
trust a drop shipper to get it right, even though you might not
even be aware that a drop shipper is being used. Drop shipping
is being used more and more lately, especially by internet only
companies. This is how, apparently small, companies appear to
have a huge variety of stock on their website. The reality is they
don't have the products in stock, they just get them drop
shipped from a supplier directly to the customer once the
customer has made an online purchase on the retailers website.
Our advice.
---

Our advice is to take this change in the law very seriously
indeed. We would strongly advise the following:
a/ Buy from a reputable company that you trust. If you are new
to the sport, seek advice from trusted friends, read customer
reviews about the level of service offered by the retailer etc.
b/ Buy from a British retailer. British retailers are covered by the
same law. If they are holding a stock of R.I.F.'s that are over the
new legal limit they would be committing the same offence
themselves and thus are unlikely to knowingly hold illegal stock.
c/ Ask the retailer if they have a good quality chronograph and if
they chronograph every individual R.I.F. prior to sending it out,
to check that it is under the legal limit ? Will they provide the
velocity reading for the R.I.F. in question? If the answer to any
of these questions is 'no', our advice is to look for a different
retailer.
d/ Ask the retailer if they actually, physically have the R.I.F. in
stock, or are they getting a supplier to drop ship the product to
you directly on their behalf.? If they are using a drop shipper,
ask for contact details of the drop shipper ,so that you can
contact them to ensure that they are making sure the RIF's are
under the legal velocity limit. If the retailer is using a drop
shipper who cannot confirm the velocity, or who is not
prepared to put it in writing, our advice is to look for another
retailer.
e/ Absolute best practice, in our opinion, is to find a reputable
local retailer who has a good quality chronograph and have the
retailer test the velocity, whilst you are present in store and
able to see the readings for yourself. Insist that the retailer
confirms the velocity readings in writing, stating that it was
tested by them on that date.
What we do here at Pro Airsoft Supplies.
Here at Pro Airsoft Supplies we have always checked the
velocity of every R.I.F. that leaves the store. If the R.I.F. is fully
automatic and firing at a velocity above, what almost all sites
allow, which is 350 FPS with a 0.2g bb, we downgrade the gun
to under this limit free of charge. Similarly if a semi only, or bolt
action R.I.F. is firing over 500 FPS. (Virtually all sites upper limit)
with 0.2g bb we downgrade it free of charge.
We have 2 very high quality SKAN chronographs. This means
that we can always check that they are giving accurate readings.
We regularly check that both chronographs are giving the same
reading for the same R.I.F. If they are giving different readings,
we know that there must be a problem with one of them and
that we need to get them recalibrated.
With the introduction of the new legislation we have increased
our efforts to ensure that our customers are safe in the
knowledge that their R.I.F.'s are legal and won't, potentially
land them on the wrong side of the law.
Every R.I.F. leaving Pro Airsoft Supplies is chronographed 3
times. Each reading is noted on a certificate, stating which
member of staff took the readings, the date of the readings and
the fact that the readings were taken using a SKAN
chronograph. We are also more than happy to chronograph the
R.I.F.'s in the presence of customers. For the benefit of the
player base and the industry as a whole, we are more than
happy to chronograph R.I.F's that have not been purchased
from us, free of charge and without any obligation to buy
anything from us.
Are we scaremongering for our own financial gane ?
We are sure that some of our competitors (probably those who
don't own a chronograph, or have an engineering department
to downgrade 'hot' R.I.F.'s) will accuse us of being over dramatic
and trying to encourage or scare customers to buy from Pro
Airsoft Supplies over retailers who can't, or don't, have such
vigorous safety checks in place. May be we are being over
cautious! Will H.M. Custom's chronograph every single R.I.F.
being privately imported into The U.K.? Almost certainly not.
However, the potential penalties for breaking this new Firearms
legislation are so serious, that we believe that it would be
incredibly irresponsible to expose customers to even the
slightest chance of encoring the wroth of the law, especially
given the context of the troubled times in which we live. We
make no excuses for acting professionally.
Buy safe, buy legal, enjoy airsoft responsibly!!!!
We hope you have found this document helpful. If you any
questions at all, our knowledgeable Team will do their best to
assist.
---
Disclaimer:
NB. The above recommendations are based on our (Pro Airsoft
Supplies) interpretation of the new firearms legislation that
came into effect on 02/05/17. We are not legal professionals,
nor do we claim to be. This is a simple guide based on our
understanding. If a particular part of the legislation is of
particular concern to you, we would advise you to seek
professional legal advice. There are some areas of the
legislation that still need clarification. Some of this ambiguity
might not be clarified until a case actually goes to Court.
Best regards,
The Team at Pro Airsoft Supplies.
Footnote: There appears to be a lot of new companies with a similar
trading names to ours, who appear to offer very similar products. Please
be advised that there is only one 'Pro Airsoft Supplies', which is based in
London. We have no branches or franchises in other parts of the country.
You should not expect the same level of service from another company
that has a similar name to Pro Airsoft Supplies.
---